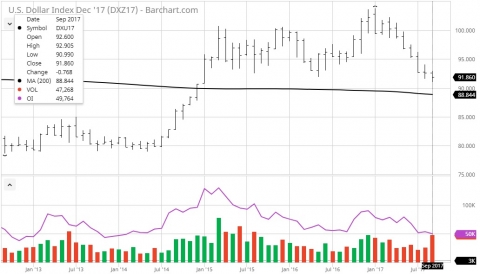 Since our last report on March 17th titled "Will President Trump Devalue the US Dollar?", the US dollar is down over 9%, falling from 100 down to a recent low of 90.79. This does not mean a dollar devaluation has occurred, or will, however as we pointed out, there are risks out there that needed to be factored in, and the market is doing just that.
In our prior report, we noted "The USD recently took out last year's high, however has seen a minor pullback going into the new administration. Short term pressure remains higher, however a loss of the year low at 99145 gives room to retest last May's low of 9188. Any move below this would reject the current breakout and give way to reverse momentum lower."
The US dollar failed to hold 99145, seeing last year's low of 91880 taken out. The break of last year's low is critical as this was the low prior to rallying into the new administration with a high of 103815 in January. Taking out last year's low shakes out longs that chased the move up, as well as reverses the move that was seen. In technical terms the breakout over 100 is considered a failure. Market is currently attempting a short covering rally after taking out last year's low, however rallies have new overhead resistance to overcome based on the move down which caught many off guard. Any rally back to the 99-9950 level provides major resistance for sellers to defend and buyers to overcome to attempt another shot at the year high of 103815.
Notice just by seeing the US dollar fall 9%, what else has taken place during this time? Crypto-currencies have become the craze. Bitcoin went from $1000 in March to a recent high of $4500! While gold has been more tapered with a move from $1230 to a recent high of $1362. Since the dollar is seeing a short term bounce after taking out 9188, gold and bitcoin are also taking a breather off the highs. Keep an eye on the USD as pressure against this currency continues. Venezuela which is having their own problems, recently stopped accepting USD for oil. The US stock market is at all-time highs. The debt limit was increased and extended again. The POTUS has not said anything about the USD. However any crash in the stock market or slowdown in inflation, will have the USD in the cross hairs if it is not already. Going forward, next major support in the USD is seen at 8497 as the 2012 highs, followed by 7650 to retest the 2010 low of 7286. Remember, under the Obama Presidency, many were negative the USD, and it went higher. Now in what is considered a pro business President, "good news" is being sold. 'Buy the rumor, sell the news.'