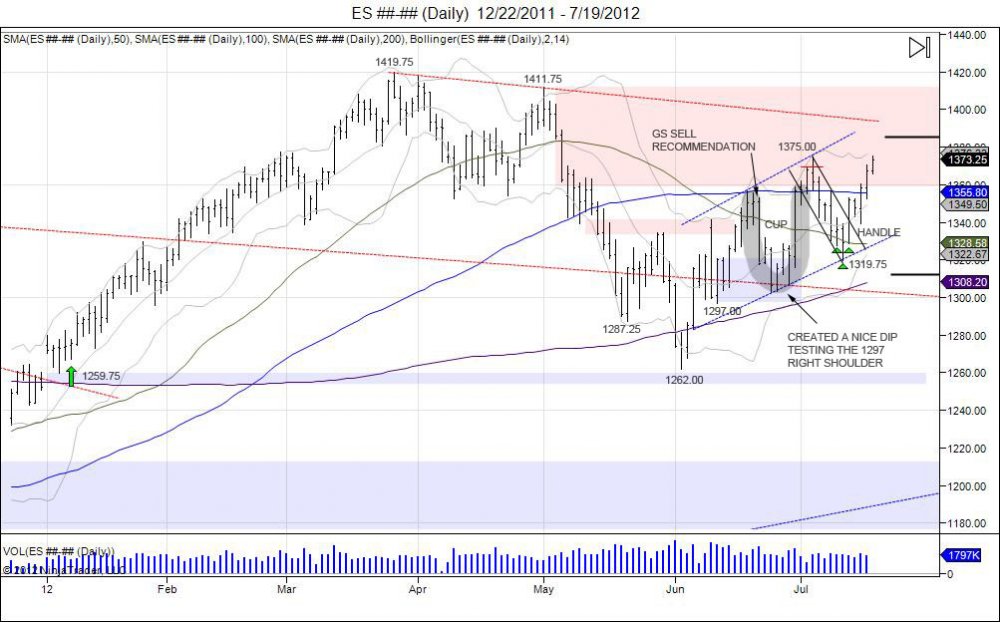 Following the 1319.75 lows made on July 12th as the market retraced lower to test its breakout point on the 29th of June, the Emini SP500 has held this level of support to break out of its handle formation off the highs of 1375. This breakout has led to a 100% retracement back to 1375 as the market has squeezed out this high. As noted in our market update on June 26th, we believed the pullback offered buyers opportunity to defend the market as the rounded bottom in the CUP was forming, followed by our post on July 12th as the handle was being formed identifying the 1328 level as support. With the market now at 1375, this rewards those brave buyers by giving opportunity to take money off the table as 2 of the 3 targets are complete, 1348 and 1375. Going forward, buyers can now run positions with their stop at their entry levels at the 1328 level and let the market attempt to complete its upside target of 1422. This move past 1375 confirms the cup/handle formation, however the next major resistance comes in at 1390 which retraces the market to where it failed at 1411.75 in May. Rather than buying at these levels, by stepping in and buying the breakdowns seen over the past few weeks, this has rewarded runners to do the heavy lifting through these major resistance levels. Sellers will be defending 1390 at all costs as this is the last level of defense where if fails, the highs of 1411.75 will be taken out, giving room to complete the upside target of 1422 and attempt to extend into 1441 being the May 2008 highs that saw the reversal into 665.75. Failure to push through 1390 and a move below 1319.75 derails momentum.
For precise entry, stop, and target levels on day and swing trades along with updates, click here for more information.
Limited time Pro Membership trial, follow above link for more information!