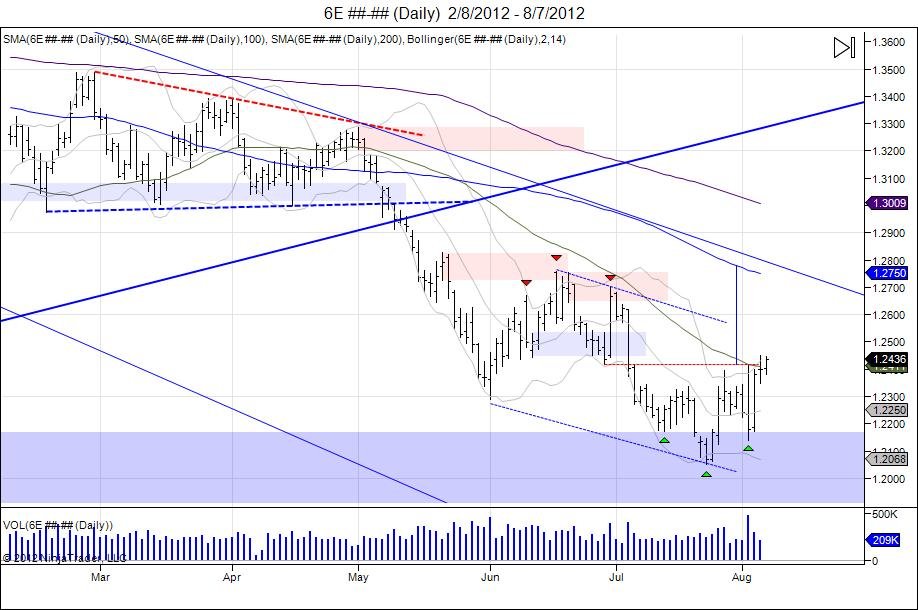 Following last Thursday's "Draghi Sale" as the Euro fell down into lows of 12140 which retested the July lows, the market has sprung back as buyers stepped up to defend this low and sellers failed to break the range. A right shoulder developed with this move and the market is back to testing its neckline of 12417. The move in itself has given brave buyers of the Draghi sale oppurtunity to have locked in most profits and now allow runners to work as the market attempts to chip away at this neckline. Shorts in the market are now trapped as the market failed to move lower and the squeeze against the neckline puts pressure against these shorts to cover. Moving past this resistance gives room to continue the squeeze and use shorts as the fuel to move past the 12051-12417 range. The inverted head/shoulder targets the June highs of 12759, putting the market against its 100 day moving average as well as the top of its daily channel. Failure to attract buyers above 12417 and a move below 12140 is needed for bears to regain control.

For precise entry, stop, and target levels on day and swing trades along with updates, click here for more information.
Limited time Pro Membership trial, follow above link for more information!