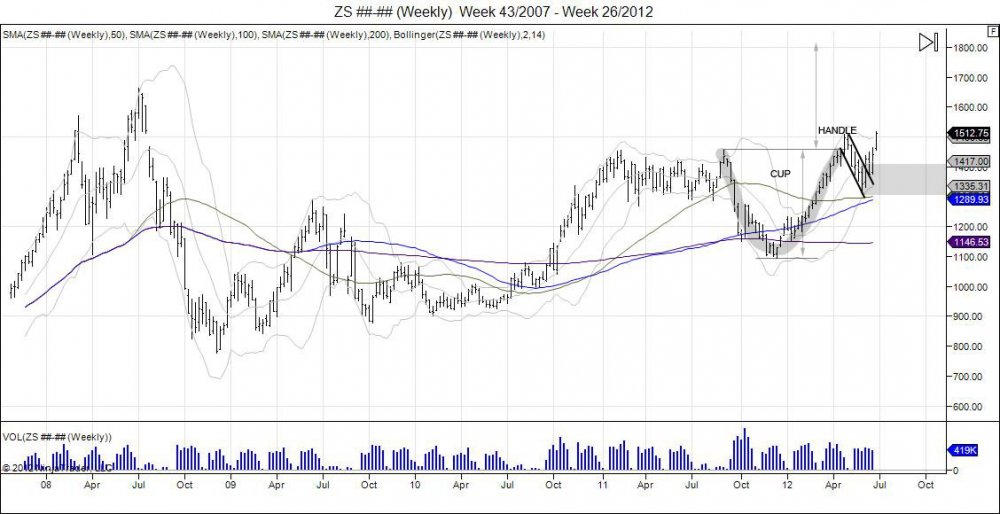 Since Soybeans put in highs of 1456 in September of 2011, the market fell down to 1094.25 within a few months in December of 2011. Since these lows, the market has rounded out a bottom and come back right to where it broke down at 1456. The market breached this high in April of 2012, rallying up to 1509.00. Since this was a complete U turn and new 3 year high, the market went into consolidation off these highs in attempt to look for support. This in turn created a "handle" for the "cup" formation that was formed from 1456-1094.25-1509. This handle pulled down into lows of 1317.50 in June 2012 and pivoted off this low to break out of its downward channel within this handle. Since this breakout the market has ran through the 1509.00 high, making new highs of 1517.75. This cup/handle formation has a target of 1817.75, which breaches the July 2008 high of 1663.00. This target is derived by taking the range 1456-1094.25=361.75, adding to 1456=1817.75. Pullbacks down into 1400 should be supported with stops below 1317.50.
For precise entry, stop, and target levels on day and swing trades along with updates, click here for more information.
Limited time Pro Membership trial, follow above link for more information!