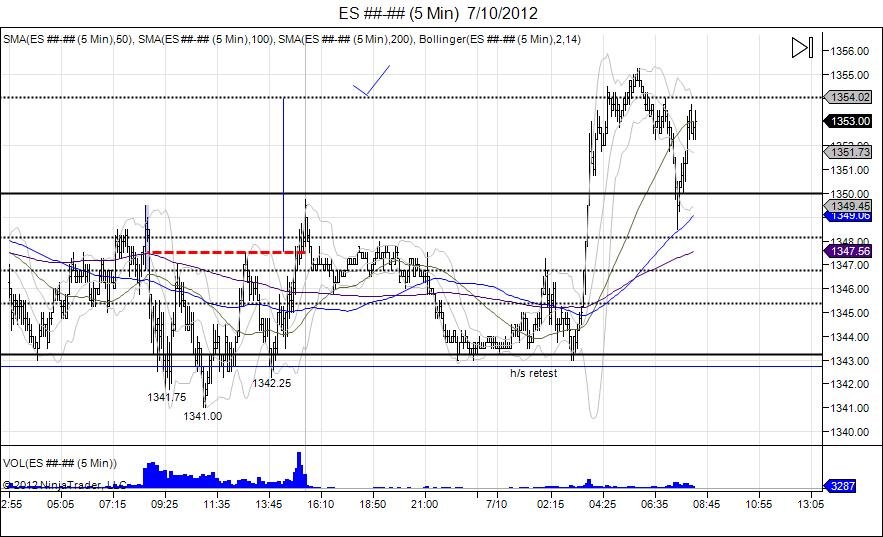 Overnight July 10, the Emini SP500 pulled in to retest its inverted head/shoulders bottom, with a 1343.00 low. The market held the head/shoulders and squeezed higher to complete the h/s target of 1353 with highs of 1355.25.
_______________________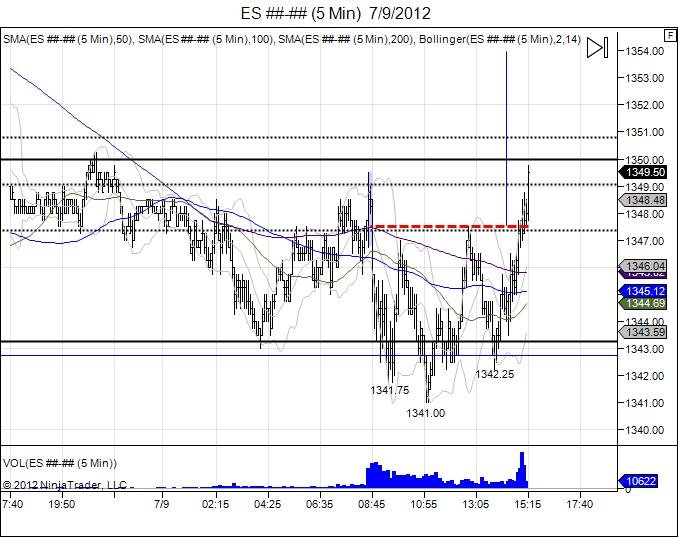 After failing to rally at the open, the market fell down to take out Friday's lows by .50 at 1341.75. A squeeze was seen following this, leading back into the opening range. First test of the opening range met more sellers and the market was seen moving back down into new lows at 1341.00. Another hold and reversal at this level the market turns back to where it failed previously (1347) and puts in a high of 1347.50, once again meeting sellers at the opening range and not able to hold up. Another push down was seen, retesting the lows by falling to 1342.25 as the test of 1341.00 was defended by buyers, in turn building a right shoulder for an inverted head/shoulders pattern. This defense led to another squeeze higher, this time since the low was retested, the market found enough strength to squeeze through its neckline of 1347.50 and put in a new session high of 1349.75 before settling at 1349.50. Today was all about attracting sellers below 1343 and squeezing out longs as the market had 3 bounces off these levels. It was not an easy day being a bull eitheir as the bias for today was bearish, however in the end, the bull squeezed out a new session high.
For precise entry, stop, and target levels on day and swing trades along with updates, click here for more information.
Limited time Pro Membership trial, follow above link for more information!