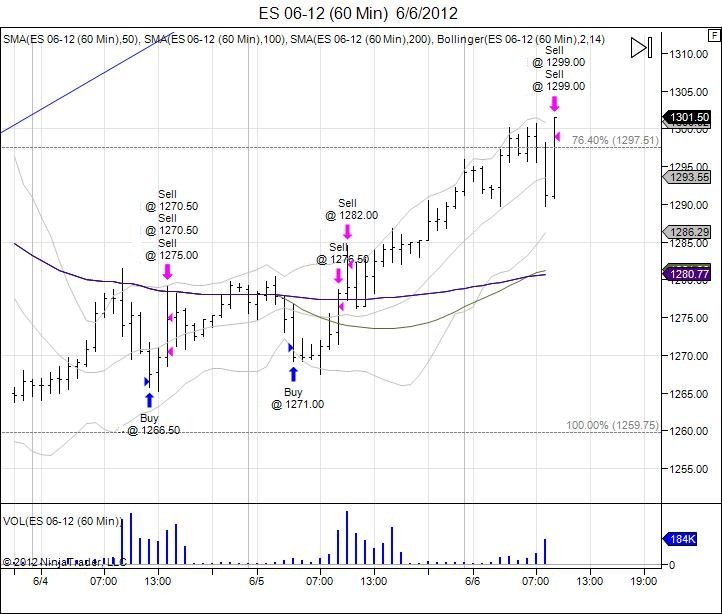 On Tuesday there was a buy recommendation of 1271 with targets of 1278, 1285, and 1308. The first 2 targets were completed intraday which allowed to take money and risk off the table by then moving stops to breakeven at 1271 for the last runner target of 1308 to be ran. The third target or runners are always the gravy or cherry on top of everything as these give profits larger then the first two targets combined. Sometimes they work out, sometimes they don't. However to take out the greed, thought of "should I hold on, should I get out", taking money off the table along the way eliminates this and leaves a position that can continue to gain should the market continue to move in that direction. On Wednesday the market ran up to 1299 and this was good enough to take off that 3rd target for a gain of 28 handles, totalling 44.5 handles. Sure enough the market ran to 1308, however no complaints.
Become a member for LIVE swing/day trades with stop/target levels and updates via email and IM.
Remember:
RISK DISCLOSURE: PAST PERFORMANCE IS NOT INDICATIVE OF FUTURE RESULTS. THE RISK OF LOSS IN TRADING FUTURES AND OPTIONS IS SUBSTANTIAL AND SUCH INVESTING IS NOT SUITABLE FOR ALL INVESTORS. AN INVESTOR COULD LOSE MORE THAN THE INITIAL INVESTMENT. NEVER TRADE WITHOUT STOP LOSSES!