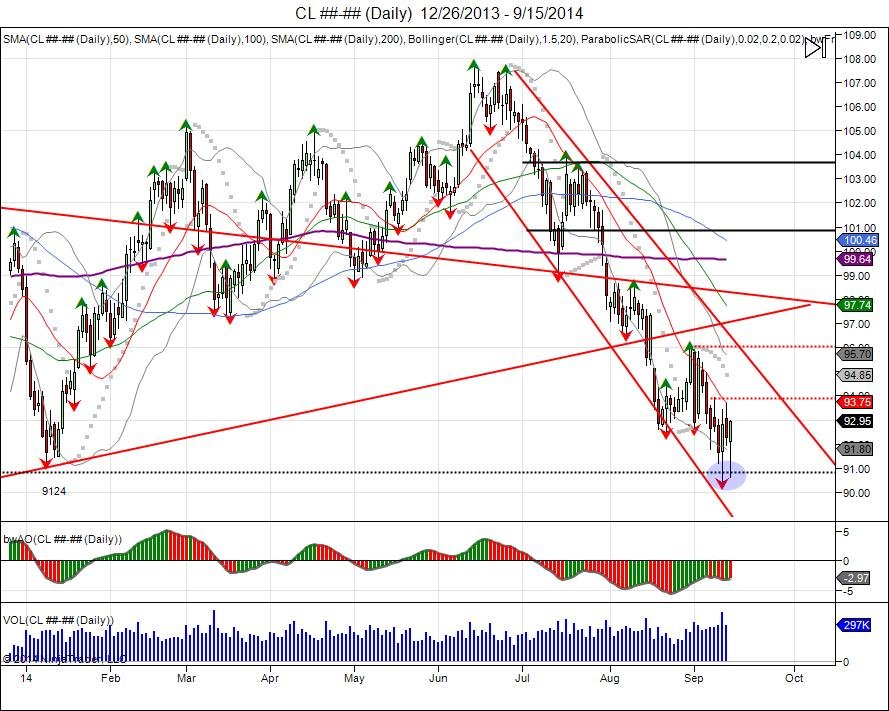 Recall last week, just before the POTUS national address, crude oil fell into new lows for the year by 2 cents at 9122. The next day after the address, oil fell further down into 9043 before turning into a short squeeze as shorts began to cover their positions, sending the market back above into highs of 9344.
On September 10th, we wrote "With the Presidential address tonight highlighting need to attack ISIS, this gives bulls their last hope for a short squeeze/rally."
"Buyers must step in here to reverse through 9400 in order to trap shorts and attempt a short squeeze through 9600 to test next major resistance into 99-102."
In the above daily chart, the market shows the pierce of the 9124 lows on the 11th and the move up to 9367. Today, the market retested those lows, allowing sellers opportunity to continue as well as buyers an area to defend. The retest of last week's lows saw sellers fail to push through; showing some exhaustion on their part, as well as seeing buyers defend the retest. This has thus far led to a squeeze back to the 9300 level allowing aggressive buyers opportunity to scale out.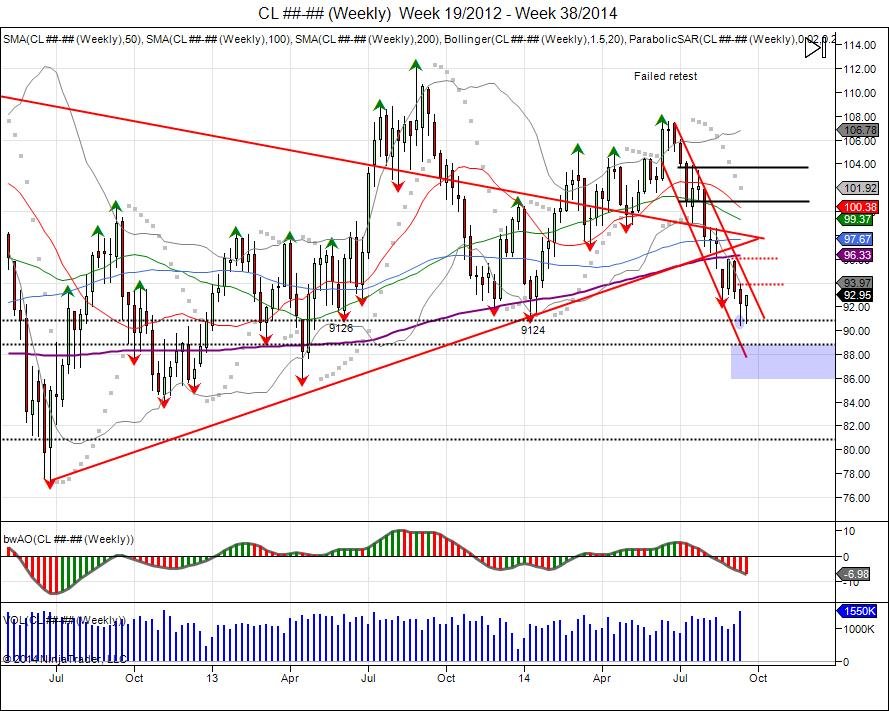 Weekly chart shows clearly defined downward channel in CL from the failed retest of the 2013 highs in June of this year. This week the weekly bar is seen pulling into retest last week's low and finding a bid. Small short covering as the market breached the 2014 lows and an attempt to create a failed break down under the January lows. Buyers must look to recover and close above last week's high of 9394 to attempt a trap under the level and look to target 9600 for stops and a retest of the broken trend line from last year's lows with room to retest the broken 6 month vol window up to 10080. Short term resistance met into 9280, squeeze through 9367 confirms Monday's lows as a successful test of last week's low. New downside support based off Monday's cash session down to 9175 with sell stops below 9117. Failure to hold the year lows and get through 9400 gives next major support into 8880.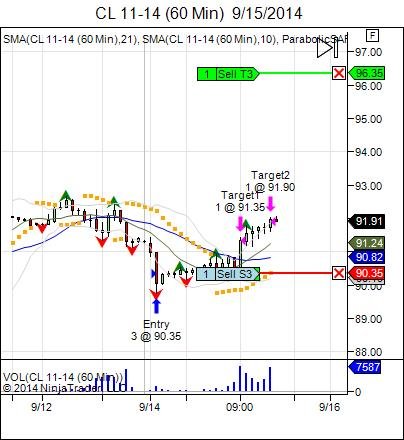 The retest today gave opportunity for aggressive buyers to defend support and we took advantage of it. The squeeze off support has allowed scaling out 2/3 of the trade. At this point it is up to the market as to whether an upside reversal through resistance is seen. We leave the heavy lifting for the market, and let a "free" runner try to catch that exposure with opportunity for $6. We hope you found last week's CL report as useful. If you are interested in following these trade signals along with day trade setups together, email contact@chicagostocktrading.com or subscribe here.
RISK DISCLOSURE: PAST PERFORMANCE IS NOT INDICATIVE OF FUTURE RESULTS. THE RISK OF LOSS IN TRADING FUTURES AND OPTIONS IS SUBSTANTIAL AND SUCH INVESTING IS NOT SUITABLE FOR ALL INVESTORS. AN INVESTOR COULD LOSE MORE THAN THE INITIAL INVESTMENT.