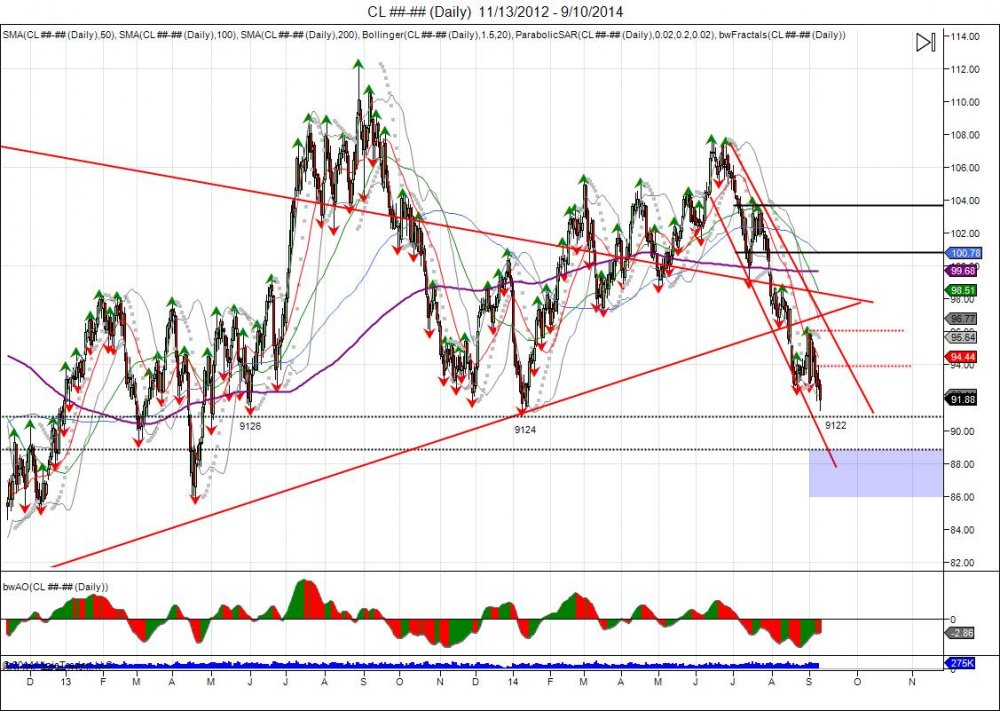 Crude oil made new lows for the year by 2 cents on Wednesday at 9122. This is the third time the market has tested this level, June 2013, January 2014, and now. To start this year, the market took out last December's low and turned the breakdown into a failure to go into a short squeeze leading up to 10754. This was crude's second chance to retest last year's failed highs of 11224 as it tried to break through its weekly pennant to the upside. The retest rejected with the highs being placed in June and the second half of the year July, beginning the liquidation lower. The move down has been relentless as the market has been driven down below its weekly pennant and broken its trendline from the 2012 lows. Short term, buyers must hold this new low by 2 cents at 9122 and look for a move through 93 in attempt for a short squeeze to retest 9400. Failure to hold 9120 gives room into next major support at 8880. With the Presidential address tonight highlighting need to attack ISIS, this gives bulls their last hope for a short squeeze/rally. ISIS continues to sell crude at deep discounts on the black market.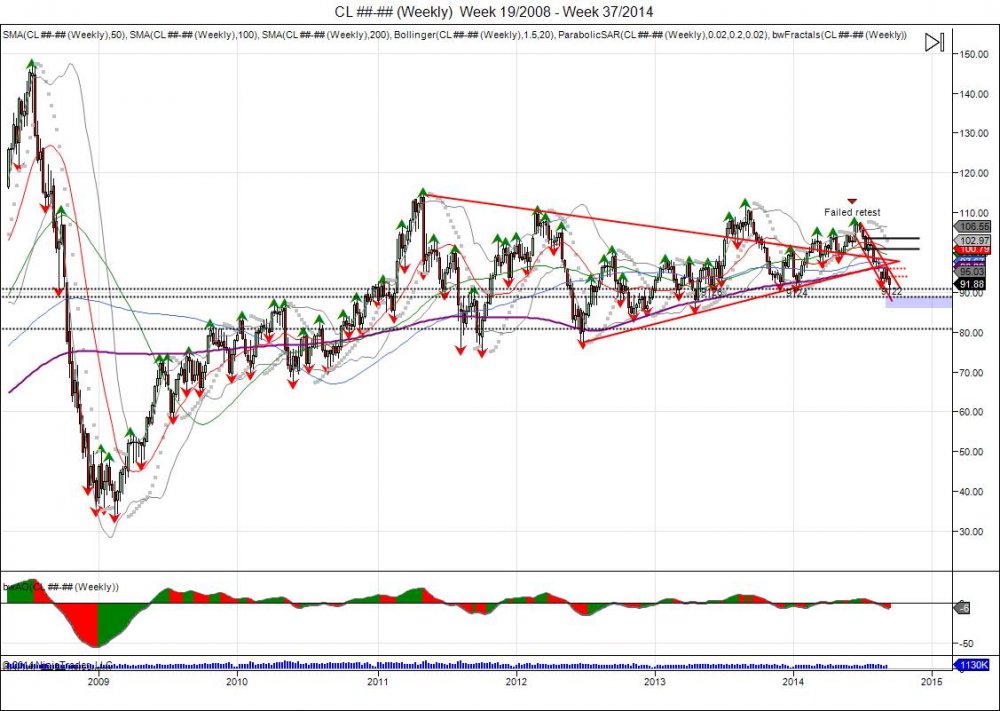 Weekly chart on crude oil shows a clearer picture of the failed retest and reversal below the 2014 lows. Buyers must step in here to reverse through 9400 in order to trap shorts and attempt a short squeeze through 9600 to test next major resistance into 99-102. Next major sell stops in the market are below 8590 from April of 2013, which gives room down to major support at 8080 with sell stops below 7728 as the June 2012 lows. Since the trend line from these lows was taken out, a pullback down to retest these lows at 8100 would offer buyers a strong level to attempt a bounce. As July goes so does the second half of the year.
For Thursday, if bulls want to trap sellers down here they must hold support down within 9155-9145 to prevent the new lows on the year at 9122 to be targeted again. Failure to hold gives room to target 89. The intraday pivot range comes within 9171-9188 as first level of resistance, followed by the 3 day pivot at 9226 to coincide with major resistance from Wednesday's cash open. Buy stops above Wednesday's cash open of 9253 give room for longs to attempt a run at Wednesday's 9303 highs.
RISK DISCLOSURE: PAST PERFORMANCE IS NOT INDICATIVE OF FUTURE RESULTS. THE RISK OF LOSS IN TRADING FUTURES AND OPTIONS IS SUBSTANTIAL AND SUCH INVESTING IS NOT SUITABLE FOR ALL INVESTORS. AN INVESTOR COULD LOSE MORE THAN THE INITIAL INVESTMENT.