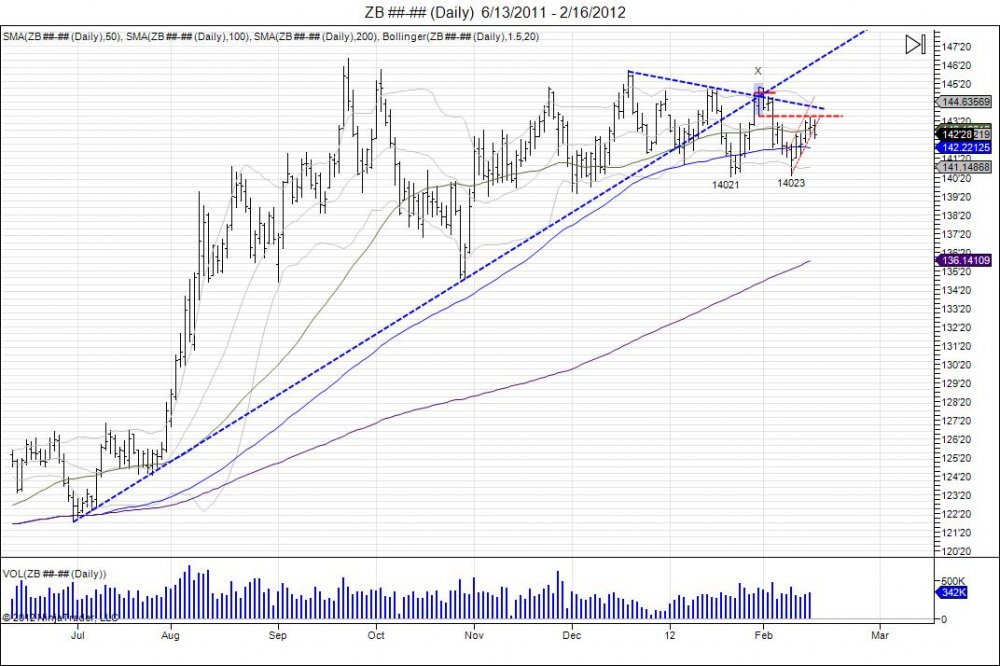 Click chart to maximize
As "X" marked the spot in the 30 year bond market on January 31st, the market had squeezed into highs of 14515 only to fail the "X" spot and turn lower. The turn fell to retest the January lows of 14021 offering oppurtunity for smart shorts to take some profits off the table as the market fell into this low and held by 2 ticks with lows of 14023. With this low failing to take out the previous month's lows, the market went into a short squeeze as it caught bears looking for the January lows to break trapped and forcing to cover. This squeeze led the market right back to where it broke down from on January 31st being the 14328 old support now acting as new resistance off this high of 14515. If this bond market bull is indeed strong then it will work through this range of 14328-14515 to squeeze out sellers and gain back momentum. On the other hand this resistance offers sellers a level to defend these highs on this retracement and look for the double bottom of 14021/23 to break, squeezing out longs and targeting the December 13924 lows. There is a lot of complacency amongst bond bulls and complacency is always a recipe to offer the most pain. In this case the most pain is seen on a break of 14021.
Subscribe to our newsletter to stay on top of these market developments and receive realtime support/resistance levels along with trade setups.