New traders can still take advantage of the $100 discount off the monthly trading subscription. If you have been on the fence before now is the time to take advantage of risking 6 ES points ($299) for opportunity to join our group, trade together, and learn in the process. Discount is locked in and can cancel anytime. Traders gain access to our AIM trading room where analysis and live trade signals are conducted in the ES, GC, CL futures contracts. Traders receive a daily futures report on the emini SP500 with daily pivots, and day/swing trade recommendations on various commodities. If you follow us on Twitter or Facebook and like the color you have seen, you will love the subscription trading together.
Here is an example of a trade posted in the nightly email and how it is managed intraday: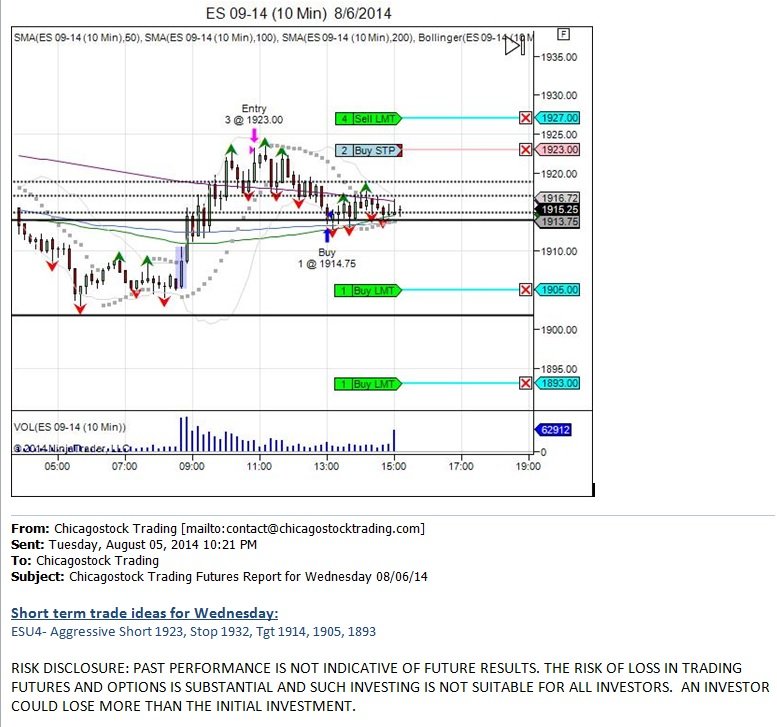 What new members have to say:
Thumps up from and to the new traders this week. Well done! pic.twitter.com/kVBgVnxvnW

— Chicagostock (@Chicagostock) August 1, 2014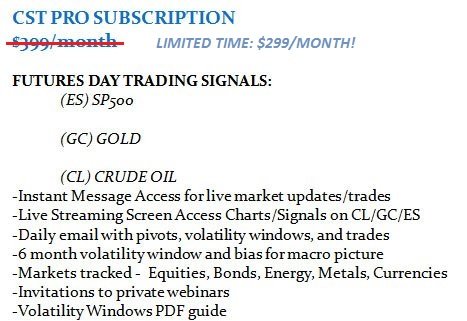 SUBSCRIBE NOW!
We are holding a private webinar training this Saturday August 9th at 1030am CST. The webinar is a small group webinar and will be conducted live. You will learn how to identify long/short trade setups on all time frames, how to configure charts, how to take profits, where to place stops, how to manage active position. This program will allow you to identify trades based on your time frame and risk. First session is 2-3 hours long. Second session is 2-3 hours long. In total 6 hours. The webinar is recorded for your future reference. One month of CST Pro is included free then can cancel your membership anytime. If you are unable to attend the class this Saturday, we will work out another session in the following week.
By subscribing you agree to the Terms and Conditions
For more information and questions regarding the CST Pro membership or Training program, please email contact@chicagostocktrading.com
RISK DISCLOSURE: PAST PERFORMANCE IS NOT INDICATIVE OF FUTURE RESULTS. THE RISK OF LOSS IN TRADING FUTURES AND OPTIONS IS SUBSTANTIAL AND SUCH INVESTING IS NOT SUITABLE FOR ALL INVESTORS. AN INVESTOR COULD LOSE MORE THAN THE INITIAL INVESTMENT.