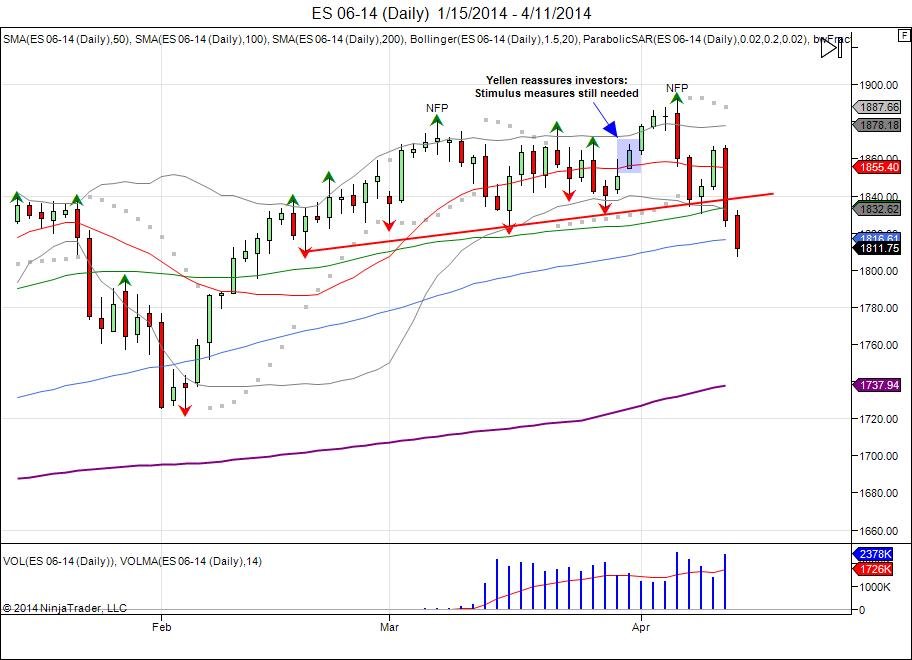 Coming into this week, tax day and a shortened holiday week was tricky. We had FRB chair pump the markets end of March into new highs reassuring investors of continued stimulus, only to see the NFP numbers double top the market and the rally get sold into. The selling picked up with the March lows taken out, confirming a short term double top as it shook out longs and left buyers from the "stimulus" talk trapped. This led to a breakdown on Friday with lows of 180725 going into the weekend.
On Friday our systems triggered many buy signals which gave opportunity to collect up to 32 handles from base hits during the day, however the market remained weak on Friday. Settling near the lows, this put pressure for a flush to take place going into Sunday. This was seen Sunday night with new lows down to 180325 before reversing higher. This triggered new buy signals at 180650 with a 5 handle stop for aggressive buyers. Going into the cash open, the market had retraced up to 182375 allowing to lock in majority of profits and allow runners to work for a day on cruise control. The cash open was followed by profit taking seeing the market fall into lows of 181550 to allow intraday buyers an area to defend, which they did and pushed the market up to highs of 182800 to test the upper vol window. Profit taking led the market to run out of gas and see a shake down into the afternoon, falling down to 180825 to retest the overnight lows before seeing a squeeze up to settle at 182450. Flushing intraday buyers, luring in shorts sub 1815 and squeezing 10 higher.
Monday 04/14/14 reversal off lows: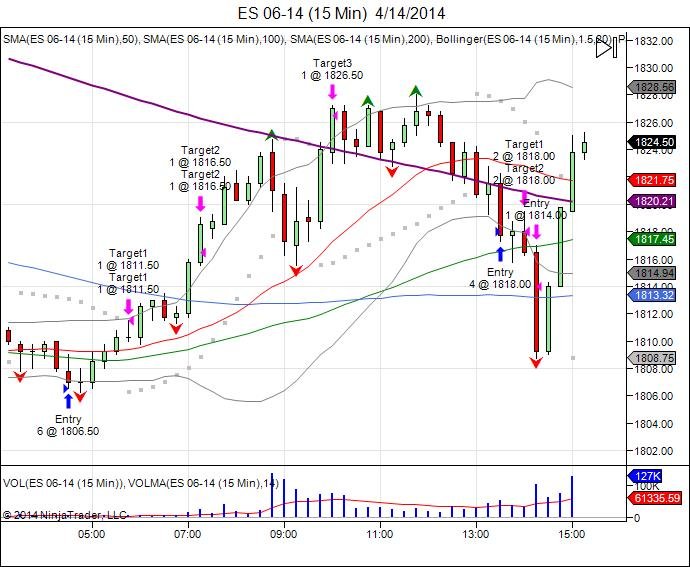 CST aggressive long signal @ 180650.
Target 1 181150, Target 2 181650 completed prior to the open to lock in 15 handles with runners. Target 3 was scaled at 182650 to lock in 20 handles and leave 1 contract on with a 1814 stop. Afternoon attempted to buy 4 more at 1818 only to see the market dance at the level too long, in turn scratching the position at 1818. Flush kicked out the overnight 180650 runner at 181400. On 6 contracts, 57.5 handles locked in. If one only bought 3 contracts @ 250 risk each total risk of 750, would have allowed to take tgt 1 181150, 2 181650, and 3 at 182650 to lock in 35 handles.
RISK DISCLOSURE: PAST PERFORMANCE IS NOT INDICATIVE OF FUTURE RESULTS. THE RISK OF LOSS IN TRADING FUTURES AND OPTIONS IS SUBSTANTIAL AND SUCH INVESTING IS NOT SUITABLE FOR ALL INVESTORS. AN INVESTOR COULD LOSE MORE THAN THE INITIAL INVESTMENT.