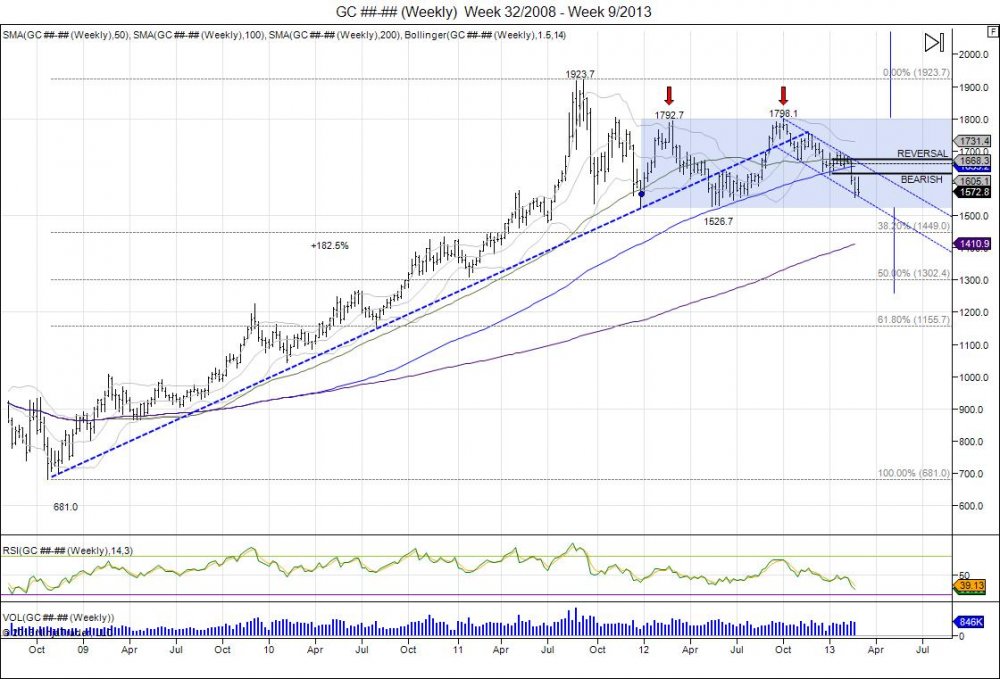 Gold's double top from 2012's year of consolidation following the 182% gain from 681-1923.7 has seen the market channel lower since that high of 1798.1. This year began with a early breakdown followed by a bounce up to 1697.8 where the market failed to push through, leading the market to breach the year lows of 1626 in contrast to the US dollar reversed to take out its year highs. Going forward, the market is now testing its last level of support based off its 1526.7 lows made in 2012. This week has been a major failure as the market rallied to take out last week's highs of 1618.8, only to fail and turn back lower to where the week opened at 1579.7. The downside chase continues and the 2012 lows are being targeted by bears. A breach of thsi 1526.7 low confirms the 2012 double top and gives room to expand that $271.4 range which gives a downside target of 1255.3. This would retrace the makret 50% of its 681-1923.7 move and offer long term investors a big area to buy. Move back above 1676 reverses the bearish bias to give room to retest year highs.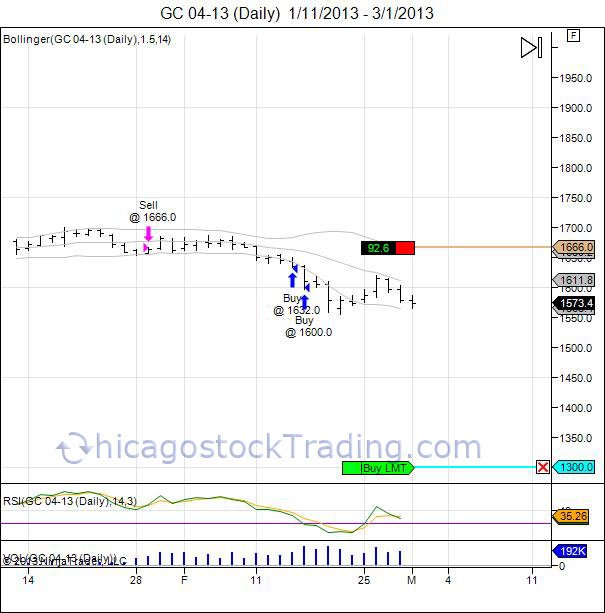 If you subscribe to our daily futures report, you received our sell recommendation at 1666 and have already taken off profits at 1632 and 1600. This has allowed to lock in $98 and allow runners a free ride to see if the market does indeed move toward the 50% retracement to complete tgt 3 at 1300. Should this take place, that's $366 of profits without risk.
If you do not receive our daily report, ask yourself, why not?
Subscribe Now:
Follow precise trade recommendations with stop and target levels: Subscribe today.
RISK DISCLOSURE: PAST PERFORMANCE IS NOT INDICATIVE OF FUTURE RESULTS. THE RISK OF LOSS IN TRADING FUTURES AND OPTIONS IS SUBSTANTIAL AND SUCH INVESTING IS NOT SUITABLE FOR ALL INVESTORS. AN INVESTOR COULD LOSE MORE THAN THE INITIAL INVESTMENT.