06/29/12 Update: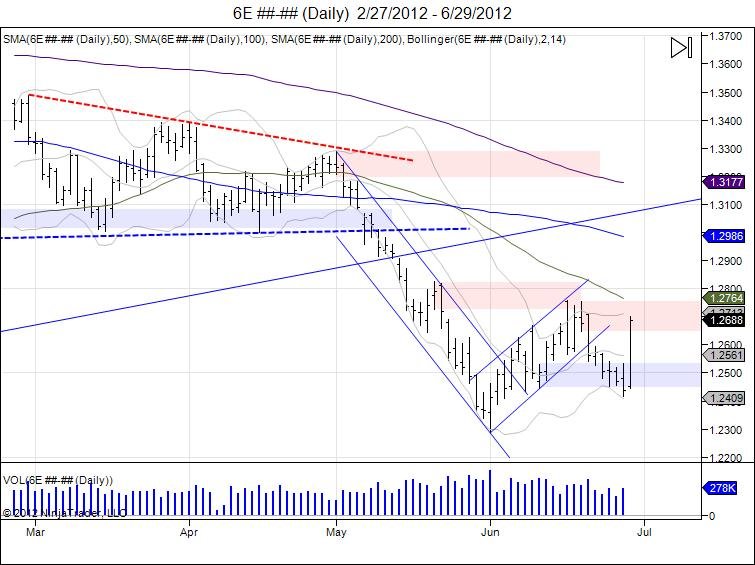 Following Euro's fish for a bottom this week, the market finally breached its continuous June 12 low of 12443 down to 12417 and the market has climbed back to turn 12443 into today's lows as the market has run through Thursday's failed 12535 highs, squeezing shorts and hitting resistance from June 20th within 12646-12753.
______________________________________________________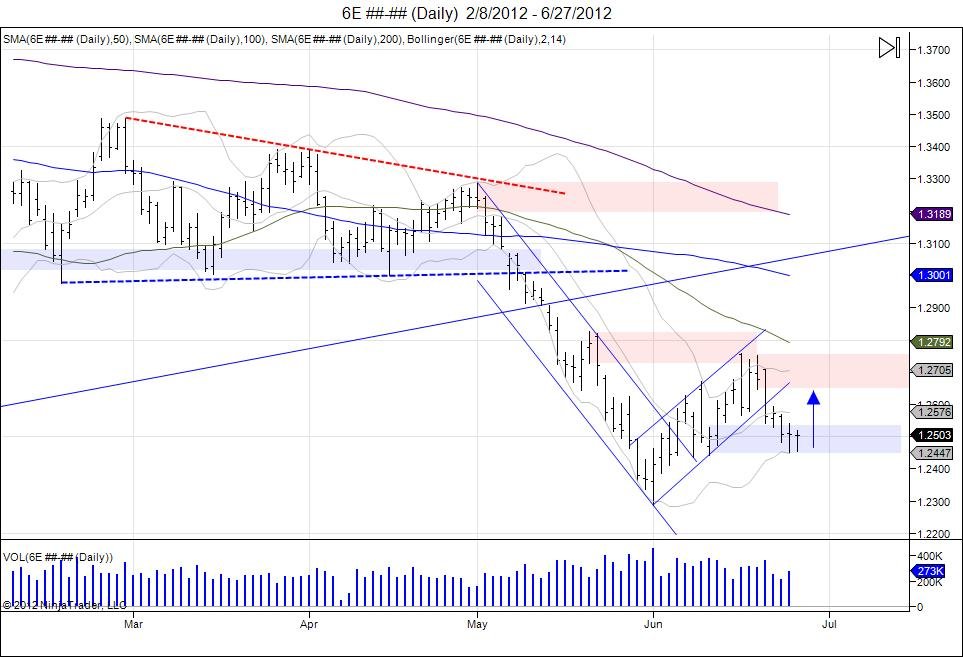 Since the Euro reversed off its 12288 lows from June 1st, the market ran up to resistance which was met from the May 21st levels at 12726. The market failed to breach this level as sellers defended the range and went through a shakedown which led the market down to break its rising channel and fall into testing support from the June 12 lows. This was the day the market pivoted into 12726. The September contract lows from this date are 12455 and this week we saw the market clip this level and fall into 12451 before quickly recovering. On Wednesday this low was retested with a 12455 low that failed to break the week low of 12451. Just as the Emini SP500 put in lows of 1302.50 on Monday and failed to take them out on Tuesday with a 1303.25 low which has been followed by a short squeeze higher into 1328, the Euro should also put pressure against shorts to cover as the market did not give oppurtunity to break the weekly low. On the continuous chart, the June 12 low comes in at 12443. A close above 12542 is needed to squeeze out shorts and target the next major resistance being 12646 from where the market failed at 12753 on June 20th. This is a major level of resistance as a test of this can build a right shoulder if sellers can hold the range, or see the market squeeze through to continue higher. On the downside the 12443 lows are the neckline for this 2 week consoliation. A breach of this gives room to retest the month lows down to 12288.
For precise entry, stop, and target levels on day and swing trades along with updates, click here for more information.
Limited time Pro Membership trial, follow above link for more information!