Since the December 2012 FOMC statement adding the 6.5% unemployment target to the fed funds rate:

Bonds, Gold, and the Yen (BGY), all front ran the FRB NFP target, moving down heavily for the year 2013, while the SP500 moved up 33%.
In 2014, just as the NFP target reached 6.7% to near the 6.5% target, it was pulled.
Year to date for 2014:

Bonds, Gold, and the Yen, working against a major downward trend last year falling an average of 20.3%, all started the year of 2014 on the lows and grinded higher. This reversal for 2014 is counter to the 2013 trend, however is the way of the market completing its front run into 6.5% target. The SP on other hand, coming off a +33% move in 2013, has held flat for 2014, threading on the highs, fighting to hold its trend versus what bonds/gold/yen are doing. The SP is also needing to take a lot of juicing at these levels as the FRB chair came out on the 31st of March to reassure investors of continued support, WHILE THE MARKET WAS AT ALL TIME HIGHS! Seems to be the last leg of longs are being lured into the market and we did see since March 31st the market ran 20 handles higher into 189250 only to fall 90 lower.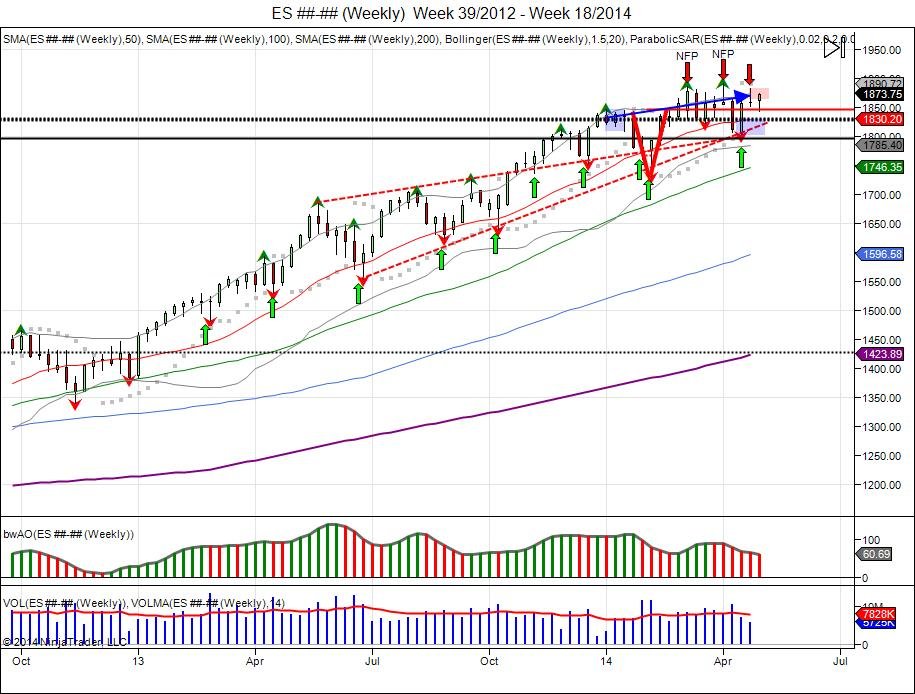 Thus far both of the last 2 NFP reports turned out to be the peak highs of the year and provided great trading opportunities. Join us for next NFP report by subscribing today.